The United States, the United Kingdom and France have attacked suspected chemical weapons sites in Syria in the biggest Western military response since the Syrian civil war started seven years ago.
The military action was taken in response to an alleged chemical weapons attack in Douma, which America, Britain and France claim was conducted by the Syrian government.
Explosions rocked the Syrian capital, Damascus, as well as two locations near the city of Homs in the early hours of this morning.
The Syrian government has described the attack as a "flagrant violation of international law", with the Russian ambassador to the United States saying that the action "will not be left without consequences".
"Right thing to do"
British Prime Minister Theresa May described the action as "the right thing to do", claimed that there was no alternative and added that this morning's airstrikes are a "clear signal to anyone who thinks they can use chemical weapons with impunity".
May defended the attack in a press conference this morning, saying that there was no doubt that the Syrian government had conducted a chemical weapons attack last week.
"No other group could have carried out this attack. We know that the Syrian regime has an abhorrent record of using chemical weapons against its own people".
In her statement, the Prime Minister also slammed Russia for using vetoes at the UN Security Council to prevent measures to punish Syria and described Russia's claim that Britain staged the attack on Douma as "grotesque and absurd."
At least 70 people were killed in the attack on Douma, which Russia and Iran have described as a false flag attack.
May was also confronted by a journalist about the lack of public support for military action, with 43% said to be opposed; she responded that this action was about "restoring the norm" on the use of chemical weapons. She is expected to address Parliament and take questions from MPs on Monday.
Corbyn – strikes "legally questionable"
UK Labour leader Jeremy Corbyn has described the attack as "legally questionable", raised concerns that the action risks escalating the conflict further and "makes accountability for war crimes and use of chemical weapons less likely".
He added: "Britain should be playing a leadership role to bring about a ceasefire in the conflict, not taking instructions from Washington and putting British military personnel in harm's way".
"We are prepared to sustain this response" – Trump
In a speech, President Trump described the purpose of the airstrikes as being "to establish a strong deterrent against the production, spread and use of chemical weapons."
He added: "We are prepared to sustain this response until the Syrian regime stops its use of prohibited chemical agents."
The US Secretary of State James Mattis also confirmed that there were no US losses in the operations.
Missiles shot down near Homs – Syrian state television
Images on Syrian state TV channel Al-Ikhbariyah al-Suriyah have been shown which purport to show destroyed missiles in the Syrian countryside near Homs.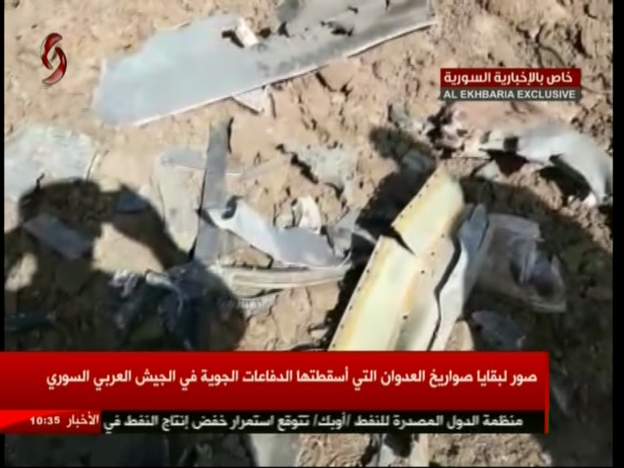 Russia's Defence Ministry has claimed that Syrian air defense systems intercepted 12 missiles fired at a military airfield east of Damascus. However, no evidence has been provided to back this claim up.