The process of picking the Democrat contender for this year's US presidential election is well underway, with the first test for the candidates – the Iowa caucus – only a week away.
For the Democrats, the stakes are high and electability has dominated the debate. But who currently looks best place to take on Donald Trump in November?
Based on the current polling, here is a look at the five Democratic candidates polling over 5 percent nationally in the race to be the nominee.
Joe Biden
Currently the frontrunner in the race to be the Democratic nominee, Joe Biden is on average 4.3 percent ahead of Donald Trump in national polling – ranging from three points behind to nine points ahead.
Based on most recent statewide polling, Biden would beat Trump, winning back Wisconsin, Michigan, Ohio, North Carolina, Pennsylvania and Florida. However, in some of these states, Biden's lead is narrow and could fluctuate in the midst of an election campaign.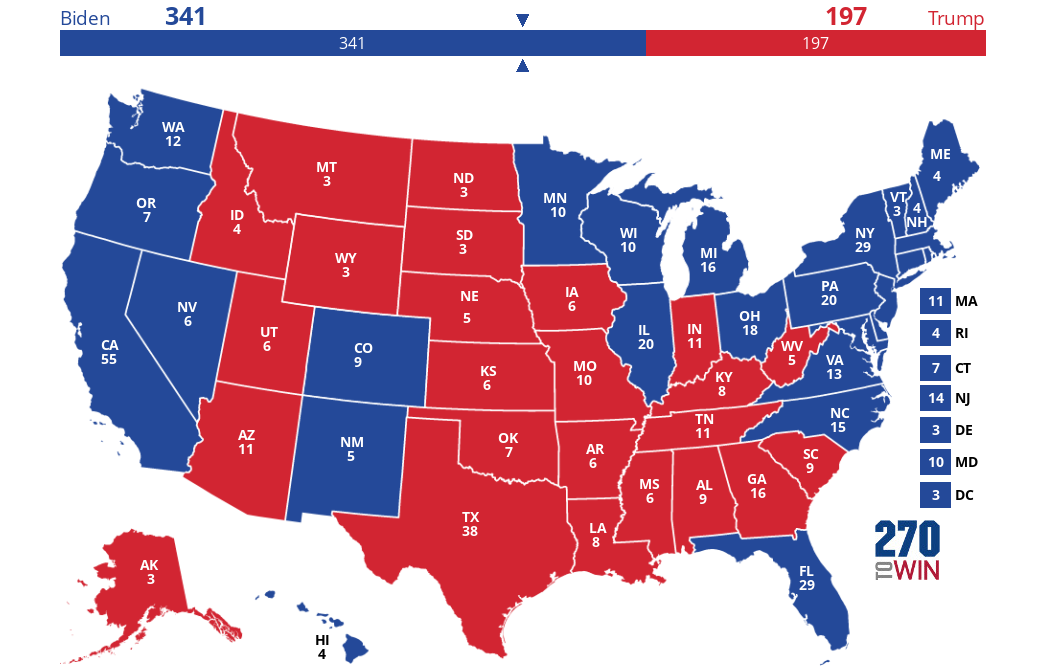 Bernie Sanders
The underdog in the 2016 primary, Sanders has climbed in polling in the race to be the Democratic candidate to face off against Trump. On average, Sanders is 3.7 percent ahead of the president nationally, ranging from one percent behind to nine percent ahead.
Current statewide polling points to a Sanders victory at the presidential election should he be the candidate, winning back some of the mid-west states lost in 2016, along with North Carolina and Florida. However, polling currently suggests losses for the Democrats under Sanders in Pennsylvania and Virginia, with a toss-up in Ohio.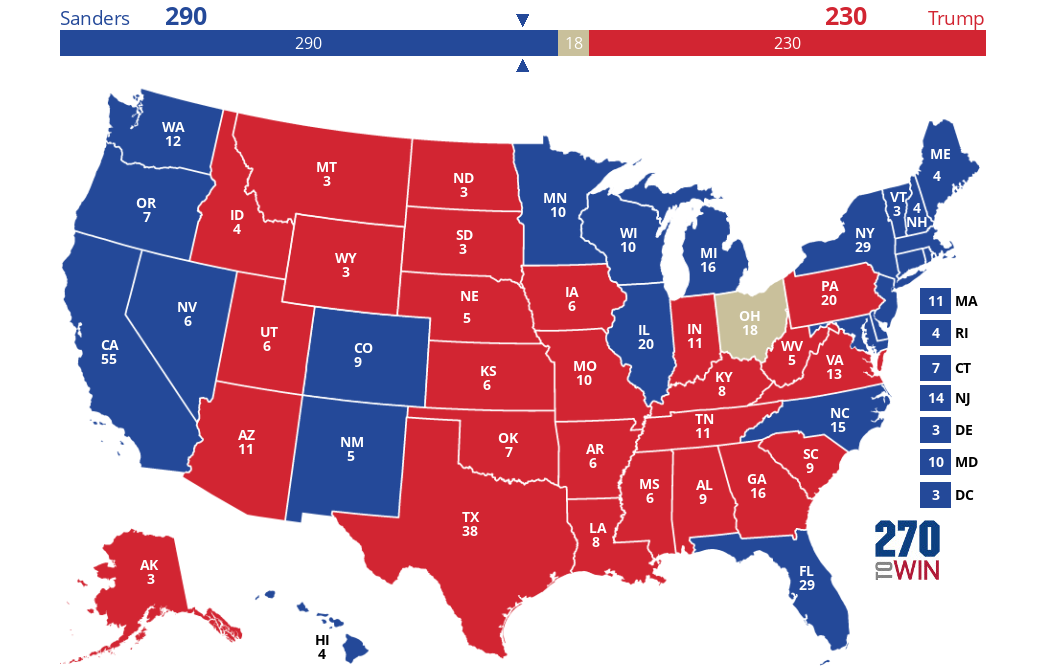 Elizabeth Warren
Warren is one of only two women left in the race to the Democratic candidate. Currently, she is on average ahead of Trump on 2.2 percent in national polls, ranging from five percent behind to five percent ahead.
Statewide polling suggests a Trump victory against Warren, with the Republican winning Pennsylvania, Wisconsin, Virginia and Florida. Some of the results are close, with Ohio a toss-up between the two, and could potentially change in an election campaign.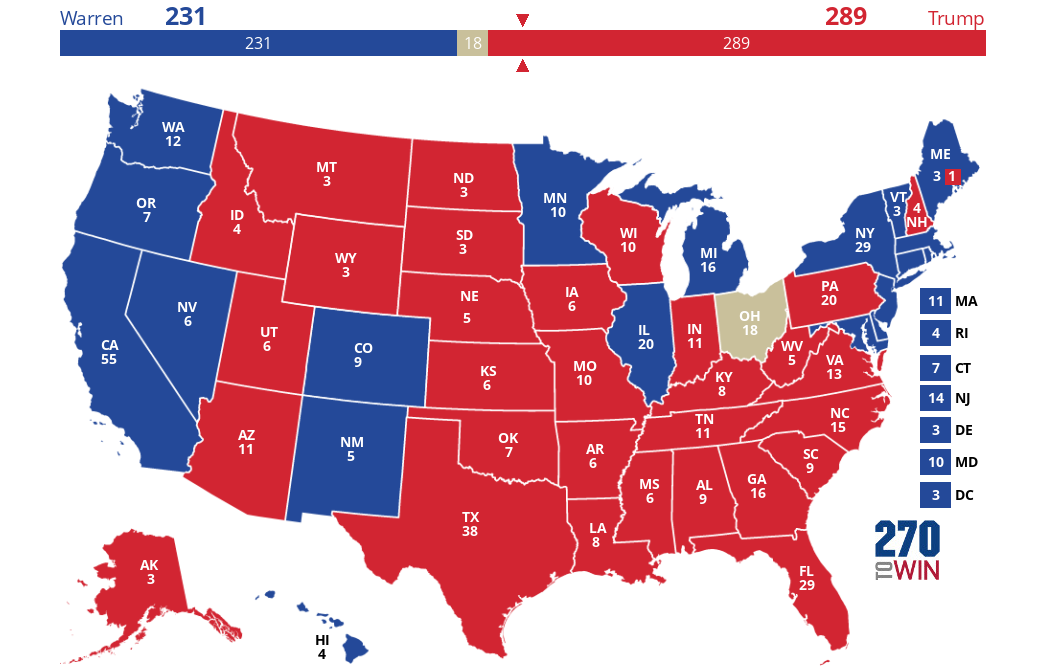 Michael Bloomberg
A late entrant into the contest to be the nominee, billionaire Michael Bloomberg has climbed in polling considerably in recent weeks. He is currently ahead of President Trump in national polling by 2.9 percent, ranging from one percent behind to nine percent.
Based on the limited statewide polling for Bloomberg, Trump would have a narrow win, holding Pennsylvania and Wisconsin. Ohio is left deliberately blank as it is unclear which direction it could go and no polling for Bloomberg in the state exists.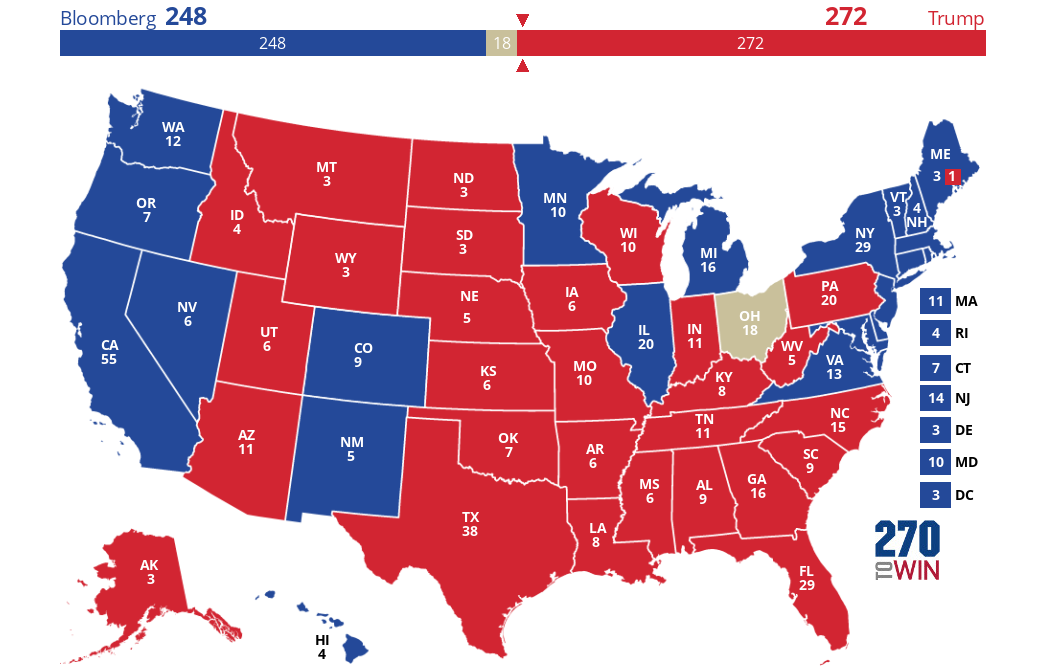 Pete Buttigieg
The first openly gay candidate in a Democratic primary, Buttigieg has fallen away in polling and has lost his place as frontrunner to win the Iowa caucus. Buttigieg is only narrowly ahead of the president in national polling by 1.4 percent, ranging from three percent behind to three ahead.
On statewide polling, Trump would narrowly win against Buttigieg, with Pennsylvania, Virginia and Wisconsin going to the Republicans, with Florida too close to call.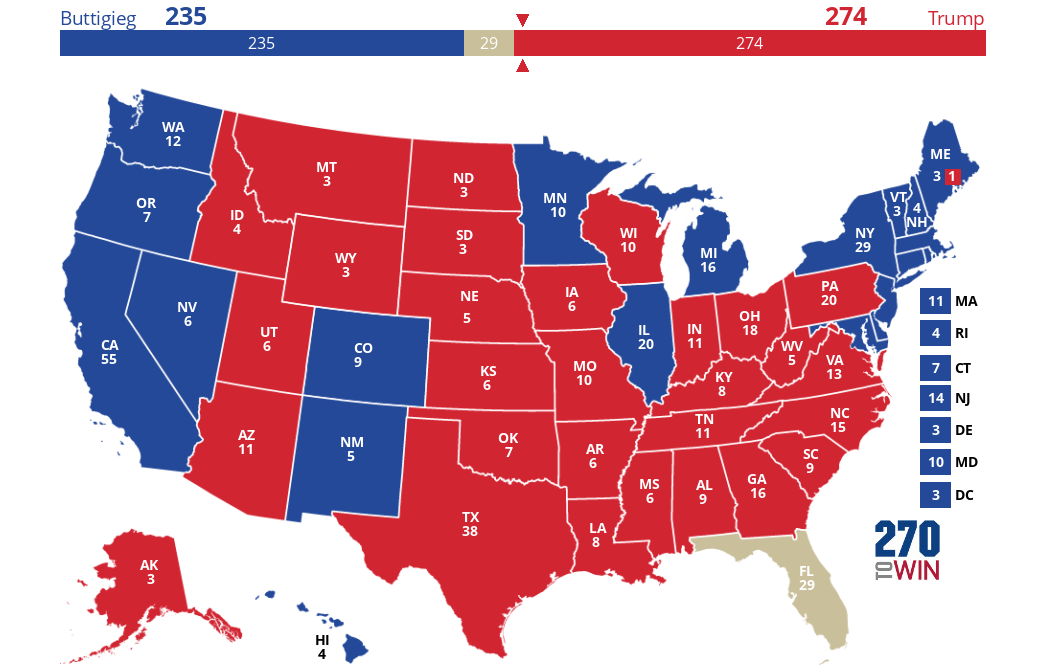 Who will win Iowa next week?
According to 538, Iowa is looking like a very close race between Joe Biden and Bernie Sanders, with aggregate polling putting the two candidates within just 0.2 percent of each other. The website puts Biden on an average vote share of 27.8 percent with a 36 percent likelihood of winning the most votes, almost tied with Sanders – on an average vote share of 27.6 percent and a 35 percent chance of winning the most votes.