It is 22 weeks until voters in the United States will decide whether to re-elect Donald Trump as president for the next four years or opt for Democratic leadership under former vice-president Joe Biden.
With incumbent presidents often having an advantage over their competitors (only four presidents have lost re-election in the last 100 years), Trump should go into this election as the favourite. Whilst the president has been notable for low approval ratings during his time in office, these have begun to increase slightly in the wake of the coronavirus crisis. However, in the coming months, his handling of the pandemic and the recession that will follow will come under intense scrutiny.
On a national level, 270toWin's latest aggregation of opinion polls gives Biden a lead over President Trump of 7.4 percent.
However, as the last presidential proved, a lead in the national popular vote does not necessarily result in victory, as the winner of the election is determined by the Electoral College. Each state is allocated a certain number of delegates, with the winner of a state taking that state's delegates. Once a candidate reaches over 270 delegates in total, they have won the presidency.
To determine who is leading the race state by state, here is a look at the most recent polling in each of the nation's 50 states, plus the District of Columbia. In states without recent polling data, their result at previous elections will be factored in to their classification. Data is taken from aggregate polling from Real Clear Politics where possible.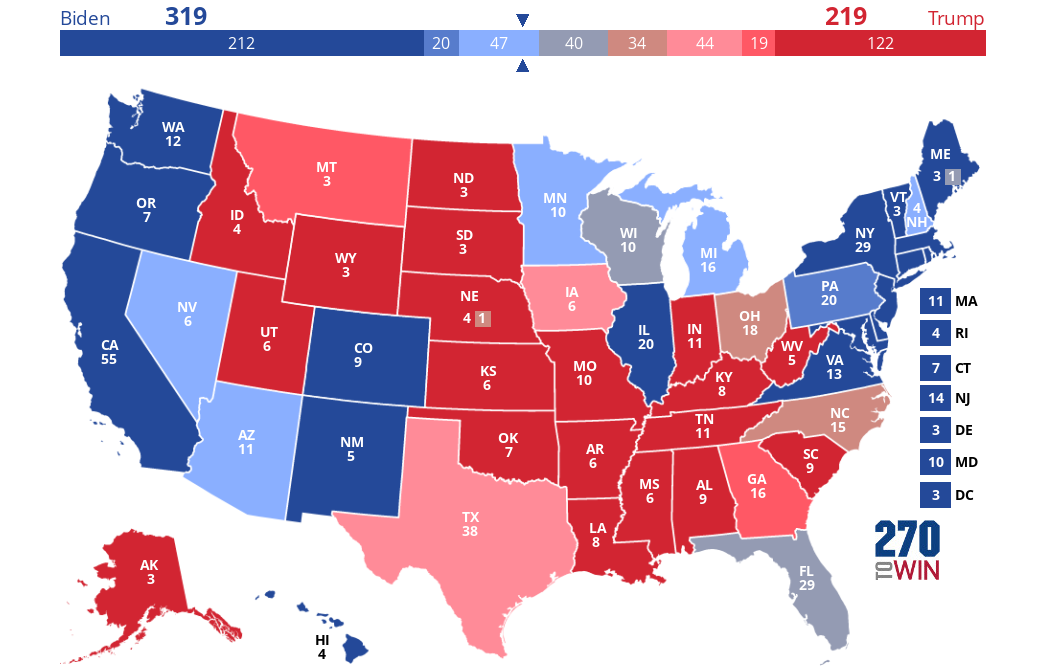 In the map above, each state is coloured based on either candidates poll lead. The darker blue a state is indicates stronger support for Biden, darker red means stronger support for Trump and grey means to state is too close to call.
Based on this projection, Biden is likely to win the presidency with an Electoral College count of at least 319, compared to Donald Trump's 304 in 2016. The former vice-president is expected, based on current polling, to flip the states of Wisconsin, Michigan, Pennsylvania, Florida, Arizona and Maine's second congressional district.
An interesting poll from earlier this month gave Biden a lead of 11 points in Nebraska's second congressional district. The only time the Democrats have won the electoral vote in the state was in 2008 under Obama. Given the state's history and the fact this is only one poll, I have classed this possible lead as tilt for Trump.
Also, another poll from earlier this week (wb 25 May 2020) put Trump only three percent ahead of Biden in Utah – famously a safe Republican state. Again, given the state's history and this being only one poll, I have still classed Utah as safe until there is more evidence of a swing to Biden; Trump won the state by 18 points in 2016.
Biden has gained a strong lead in important states such as Pennsylvania and Michigan and has an advantage in places like Florida, Wisconsin and even Arizona. Meanwhile, Trump is clinging on in states like North Carolina and Ohio, whilst maintaining a more solid lead in other potential swing states like Iowa and Georgia.
Most shockingly out of these results is Trump's lead in Texas – only 2.5 percent from the 9 percent that he won the state with in 2016. A Democratic win in this state, which has not turned blue since 1976, would be a huge and perhaps fatal blow for Trump's chances of winning re-election. Moreover, a poll last month in Montana suggested Trump's lead may be as low as five percent. The state last went Democratic in 1992 under Bill Clinton, with Obama coming within three percent of taking the state in 2008.
However, with 22 weeks of the election campaign still to go, this forecast could easily shift in either direction before November 3rd, particularly amid the ongoing coronavirus pandemic and Black Lives Matter protests across the country.