It is 84 days until voters in the United States will decide whether to re-elect Donald Trump as president for the next four years or opt for Democratic leadership under former vice-president Joe Biden.
With incumbent presidents often having an advantage over their competitors (only four presidents have lost re-election in the last 100 years), Trump should go into this election as the favourite. Whilst the president has been notable for low approval ratings during his time in office, these have begun to increase to in the wake of the coronavirus crisis, the start of an economic depression and nationwide Black Lives Matter protests following the death of George Floyd.
On a national level, RealClearPolitics' latest aggregation of opinion polls gives Biden a lead over President Trump of just under seven percent.
If we compare this to last week's RCP average, Biden's national lead in the polls appears to be narrowing – dropping from 7.4 percent. Despite this, Biden is now ahead of where 2016 Democratic nominee Hillary Clinton was at this time in the campaign – albeit narrowly.
However, as the last presidential proved, a lead in the national popular vote does not necessarily result in victory, as the winner of the election is determined by the Electoral College. Each state is allocated a certain number of delegates, with the winner of a state taking that state's delegates. Once a candidate reaches over 270 delegates in total, they have won the presidency.
To determine who is leading the race state by state, here is a look at the most recent polling in each of the nation's 50 states, plus the District of Columbia. In states without recent polling data, their result at previous elections will be factored into their classification. Data is taken from aggregate polling from RealClearPolitics where possible.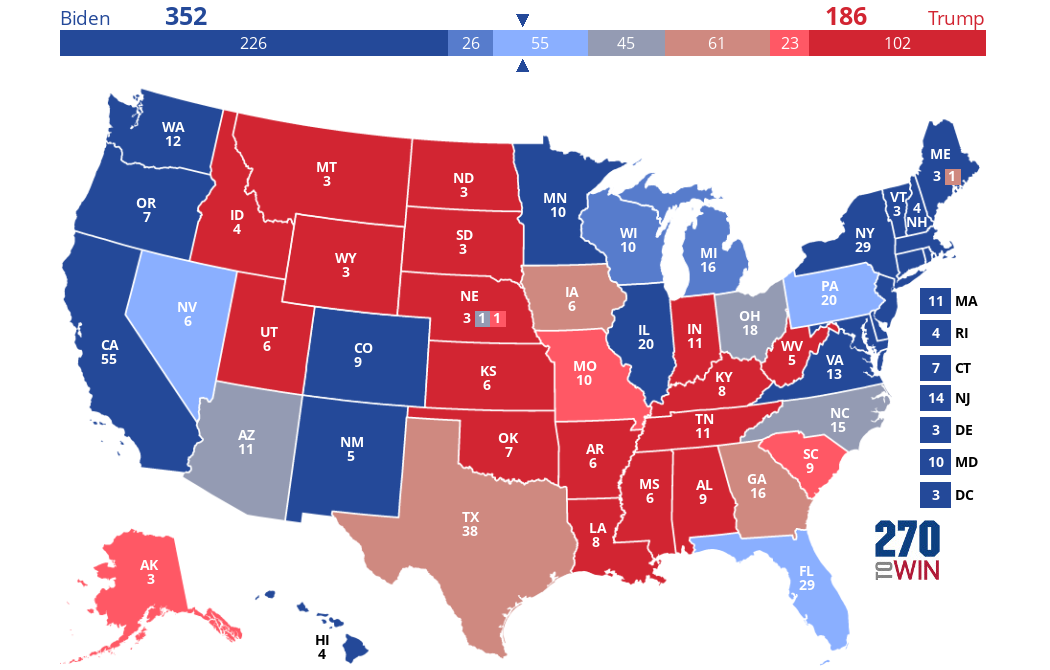 In the map above, each state is coloured based on either candidate's poll lead. The darker blue a state shows stronger support for Biden, darker red means stronger support for Trump and grey means to state is too close to call.
Based on this projection, Biden is likely to win the presidency with an Electoral College count of 352, compared to Donald Trump's 304 in 2016. The former vice-president is expected, based on current polling, to flip the states of Wisconsin, Michigan, Pennsylvania, Florida, Ohio, North Carolina, Arizona and Nebraska's second congressional district.
NB regarding some ratings:
Polls have also suggested closer races in some traditionally safe Republican states. If polling reaffirms such a shift in the absence of a RCP average, I will adjust their rating accordingly, as I have for Alaska, Missouri and South Carolina.
Maine and Nebraska split some of their electoral votes by congressional district. Based on the small amount of polling for these specific areas, Trump has a slight lead in Maine's second congressional district, with Biden strongly ahead in Nebraska's second congressional district. A recent poll in Nebraska's first congressional district also hinted at a closer race than normal. As a result, I have rated ME-02 as tilt Trump, NE-02 as tilt Biden and NE-01 as likely Trump.
The state of the race in swing states
Biden leads in all but three swing states, with strong leads of five percent or more in Pennsylvania, Michigan, Wisconsin and New Hampshire. However, compared with last week, Biden's average lead according to RCP has dropped or stagnated in almost every swing state – bar Wisconsin. This now makes races in Arizona, North Carolina and Ohio extremely competitive and means Biden cannot be confident of victory in Florida.
The Economist forecast
As of August 11th, The Economist's election model gives Biden a 89 percent chance of winning the presidency and a 87 percent chance of winning the most votes nationwide. Biden's chance of winning is down two percent on last week, according to the Economist's model.
This model projects wins for Biden in many of the crucial swing states, with tossups in Georgia and Ohio.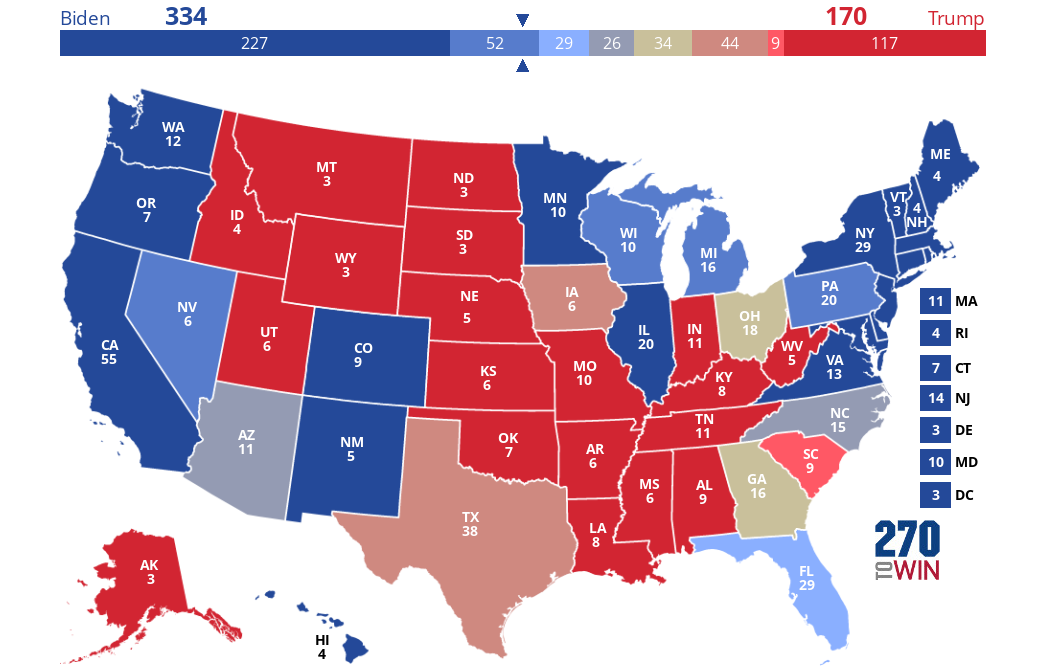 FiveThirtyEight 'forecast'
Although 538 has not officially launched its election model, its current polling averages by state (as of August 11th) put Biden on 334 to Trump's 132, with Texas, Ohio and Georgia classed as toss-up.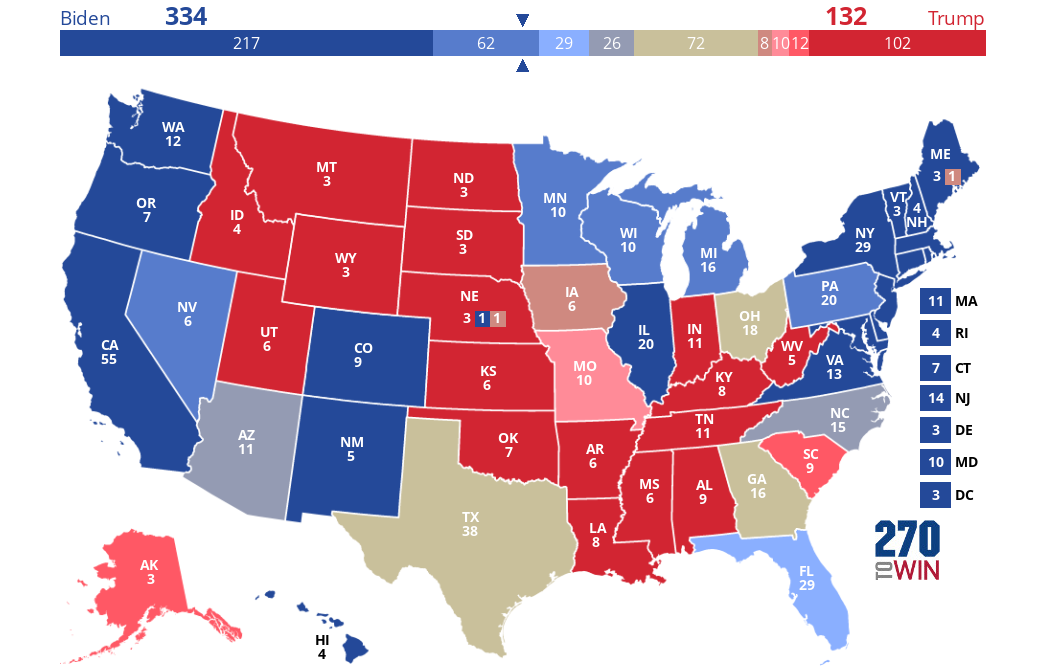 However, with 12 weeks of the election campaign still to go, this forecast could easily shift in either direction before November 3rd, particularly amid the ongoing coronavirus pandemic and the economic recession that will result.