It is 49 days until voters in the United States will decide whether to re-elect Donald Trump as president for the next four years or opt for Democratic leadership under former vice-president Joe Biden.
On a national level, RealClearPolitics' latest aggregation of opinion polls gives Biden a lead over President Trump of just over seven percent.
If we compare this to last week's RCP average, Biden's national lead in the polls has remained stagnant, with no change. Biden remains ahead of where 2016 Democratic nominee Hillary Clinton was at this time in the campaign by more than five percent.
It is worth noting that, at this point in previous elections, the Democratic nominee has often underperformed compared to the eventual election result, whether by only a fraction of a percent in Clinton's case to almost nine percent in Obama's case in 2008. If this trend repeats itself, we could expect Biden's lead to increase to some degree in the national result.
As the last presidential election proved, a lead in the national popular vote does not necessarily result in victory, as the winner of the election is determined by the Electoral College. Each state is allocated a certain number of delegates, with the winner of a state taking that state's delegates. Once a candidate reaches over 270 delegates in total, they have won the presidency.
To determine who is leading the race state by state, here is a look an average of polling aggregates and forecasts from six different outlets; namely RealClearPolitics, The Economist, FiveThirtyEight, JHK, Plural Vote and Electoral Polls.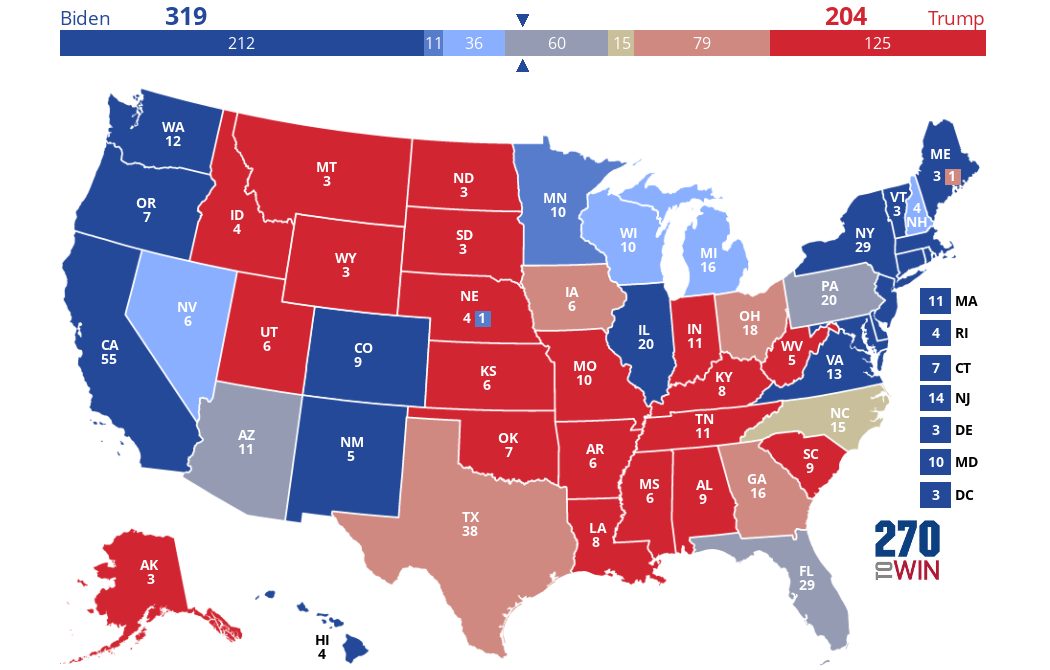 In the map above, each state is coloured based on either candidate's poll lead. The darker blue a state shows stronger support for Biden, darker red means stronger support for Trump and grey means to state is too close to call.
Based on this projection, Biden is likely to win the presidency with an Electoral College count of 319, compared to Donald Trump's 304 in 2016. The former vice-president is expected, based on current polling, to flip the states of Wisconsin, Michigan, Pennsylvania, Florida, Arizona and Nebraska's second congressional district.
The state of the race in swing states
Biden leads in some crucial but with varying degrees of support. In some key states, such as Florida, Pennsylvania and Arizona, Biden holds only a narrow lead.
Although Trump's boost in support has waned in national polling, his support has continued to grow in some of the battleground states, including Iowa and North Carolina. The tightening of the race emphasises once again the importance of these crucial states in determining who will emerge the victor in November. All signs, once again, seem to point towards the mid-western states being the kingmaker in the election – particularly Pennsylvania.
However, the lack of any lean or likely states for Trump means his re-election chances hinge on several states that are only narrowly in his favour. If any of these should change or be subject to a polling error, this could spell disaster for his chances.
The Economist forecast
As of September 15th, The Economist's election model gives Biden a 84 percent chance of winning the presidency and a 97 percent chance of winning the most votes nationwide. Biden's chance of winning is equal to what it was last week, according to the Economist's model.
This model projects wins for Biden in several crucial swing states, including Wisconsin, Michigan and Pennsylvania, with a tossup in North Carolina.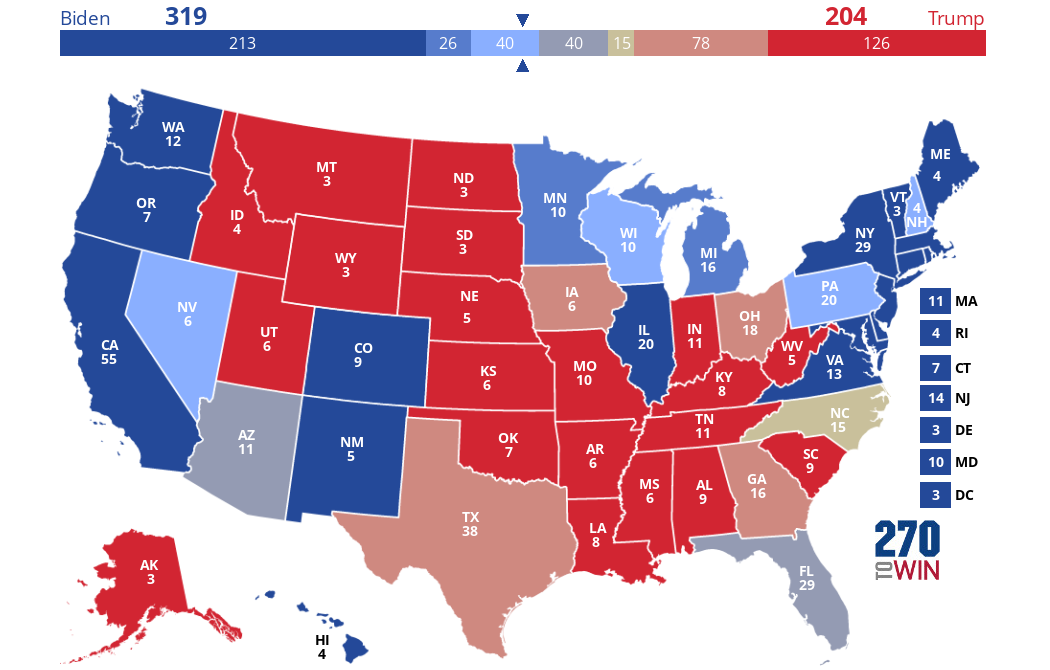 FiveThirtyEight forecast
As of September 15th, FiveThirtyEight's model predicts that Biden is 'favoured' to win the election, with a 76 percent probability – up four percent on last week. It currently projects close races in key swing states, including Arizona, North Carolina, Florida and North Carolina.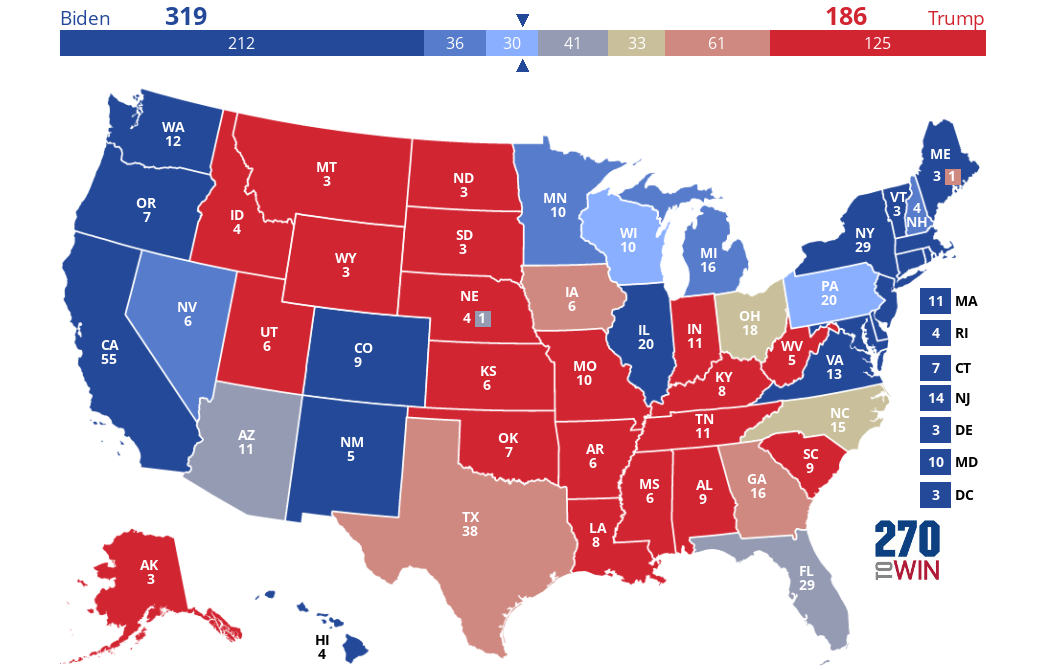 JHK forecast
As of September 15th, JHK gives Joe Biden a 78 percent chance of victory on November 3rd, down one percent on last week, with flips in Arizona, Florida, Wisconsin, Michigan, North Carolina and Pennsylvania.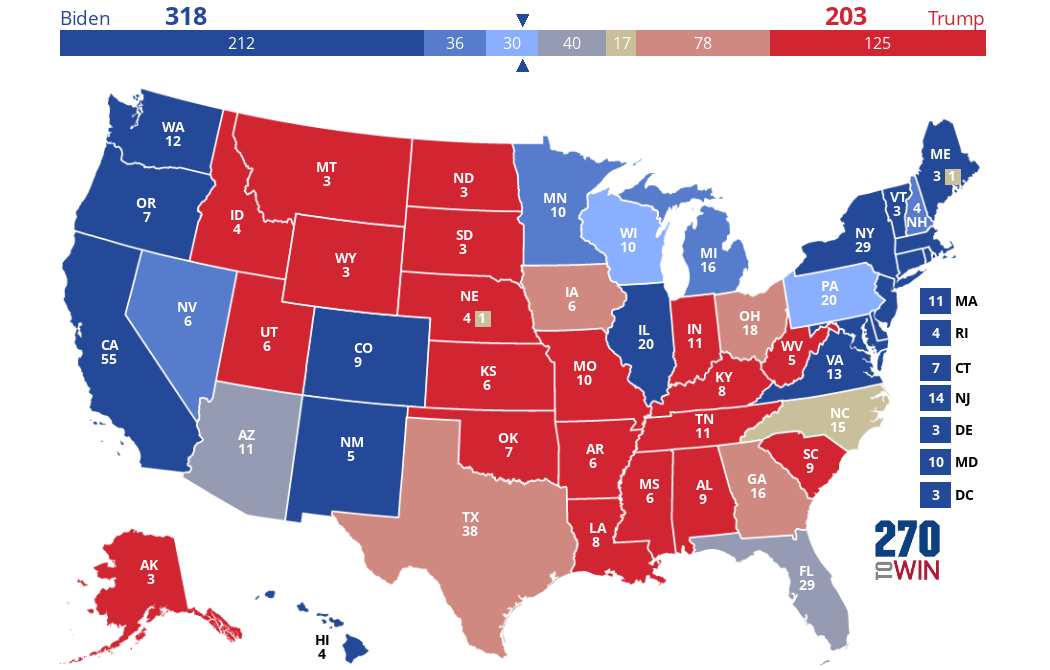 Plural Vote forecast
As of September 15th, Plural Vote gives the Democrats a 71 percent chance of winning the presidency, down two percent on last week. Joe Biden is expected to pick up the swing states of Wisconsin, Michigan, Pennsylvania, Arizona, Florida and North Carolina, with tossups in Texas, Georgia and Maine's second congressional district.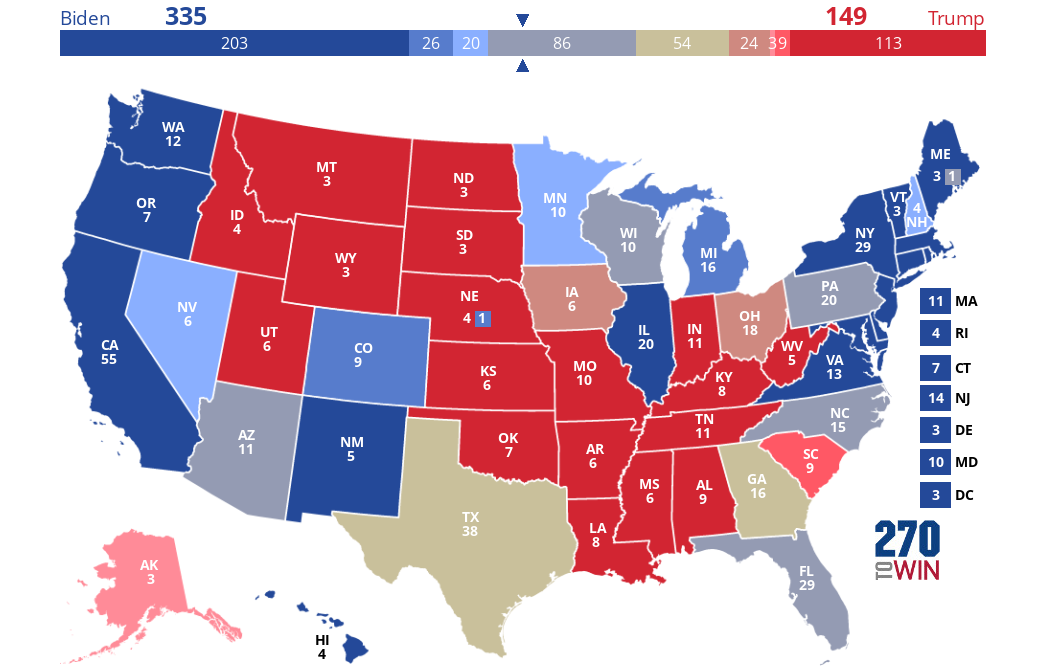 Electoral Polls forecast
As of September 15th, Electoral Polls gives Biden a 71 percent win probability, equal to last week, with Biden holding only narrow leads in the Midwest, Florida and Arizona, and with a tossup in Texas and New Hampshire.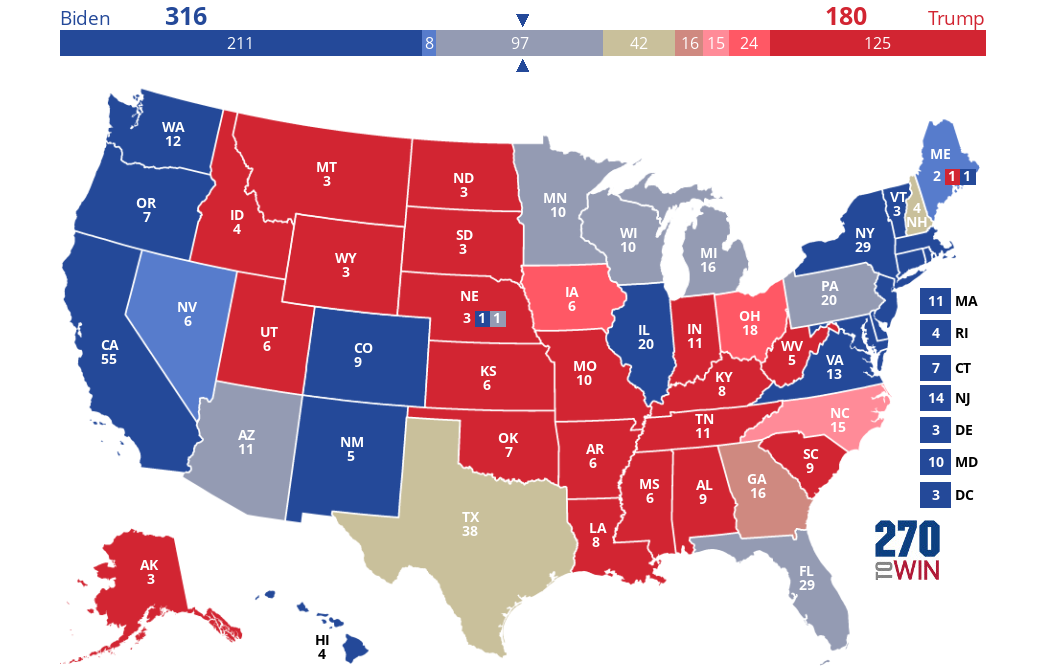 With seven weeks of the election campaign still to go, these forecast can still easily shift in either direction before November 3rd, particularly amid the ongoing coronavirus pandemic, speculation about a possible vaccine and the economic impact it may have.