Voters in the United States are deciding whether to re-elect Donald Trump as president for the next four years or opt for Democratic leadership under former vice-president Joe Biden.
With incumbent presidents often having an advantage over their competitors (only four presidents have lost re-election in the last 100 years), Trump should go into this election as the favourite. However, Trump has suffered low approval ratings throughout his time in office and is plagued with the coronavirus crisis, and controversy over his plans to replace the late Supreme Court Justice Ruth Bader Ginsburg just weeks before voters go to the polls, not to mention his own covid infection impacting his ability to campaign.
National polling
On a national level, RealClearPolitics' latest aggregation of opinion polls gives Biden a lead over President Trump of just under seven percent.
If we compare this to last week's RCP average, Biden's national lead in the polls has dipped by just under one percent. Despite this, Biden remains not only ahead of where 2016 Democratic nominee Hillary Clinton was at this time in the campaign, but almost near where Barack Obama was in 2008.
If we look back at the last few elections, three of the previous four saw a result in national vote share similar to that of polling the day before election day, give or take one percent. Should this be the case in this election, Biden could be expected to win by between six and eight percent.
Electoral College
As the last presidential election proved, a lead in the national popular vote does not necessarily result in victory, as the winner of the election is determined by the Electoral College. Each state is allocated a certain number of delegates, with the winner of a state taking that state's delegates. Once a candidate reaches over 270 delegates in total, they have won the presidency.
To determine who is leading the race state by state, here is a look an average of polling aggregates and forecasts from six different outlets; namely RealClearPolitics, The Economist, FiveThirtyEight, JHK, Plural Vote and Electoral Polls.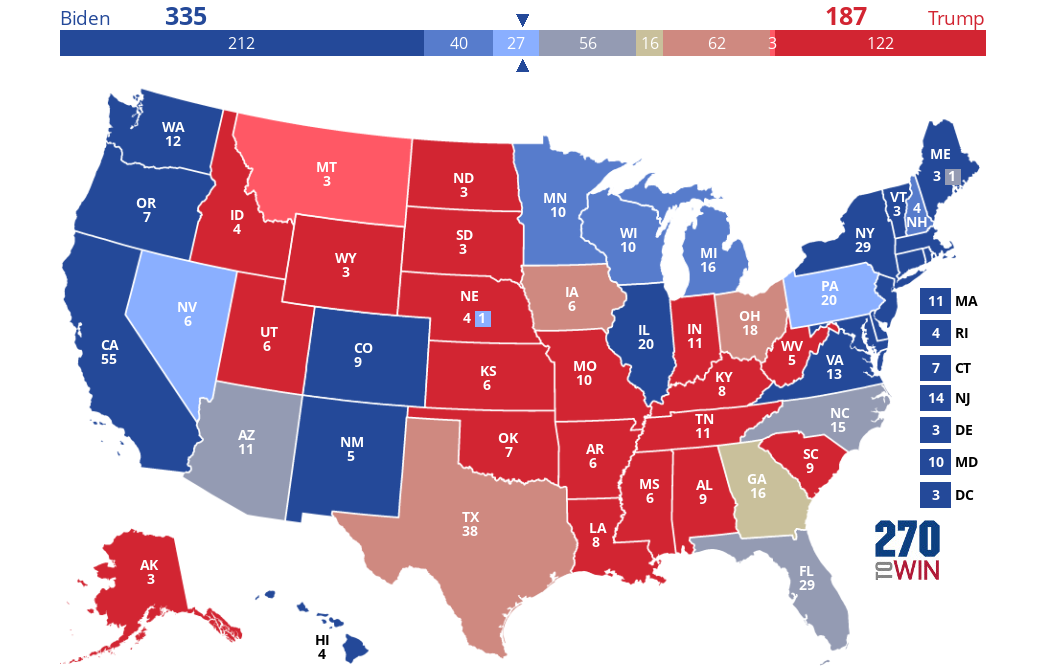 In the map above, each state is coloured based on either candidate's poll lead. The darker blue a state shows stronger support for Biden, darker red means stronger support for Trump and grey means to state is too close to call.
Based on this projection, Biden is likely to win the presidency with an Electoral College count of at least 335, compared to Donald Trump's 304 in 2016. The former vice-president is expected, based on current polling, to flip the states of Wisconsin, Michigan, Pennsylvania, Florida, Arizona, North Carolina, as well as Nebraska's and Maine's second congressional district. Georgia is classed as toss-up, with a very slight Biden lead.
The state of the race in swing states
Biden leads in almost all but three swing states to varying degrees of support. In some key states, such as Minnesota, New Hampshire, Michigan and Wisconsin, Biden holds a commanding lead. However, his support has dropped significantly in some states, such as Arizona, Florida, Pennsylvania and North Carolina. While Biden can still make it to 270 without Arizona and Florida, Pennsylvania is essential to his strategy – and yet it is still very much up for grabs.
Although Trump lags behind in the national polling and most swing states, the narrowing in the polls works in his favour. His apparent increase in support in Florida, Pennsylvania and Arizona keeps a slim chance of victory open to him, should a polling error in some states also work in his favour. For Trump to win, he must win five key states: Arizona, Florida, Pennsylvania, North Carolina and Georgia. If he were to lose any one of those, he would be in trouble.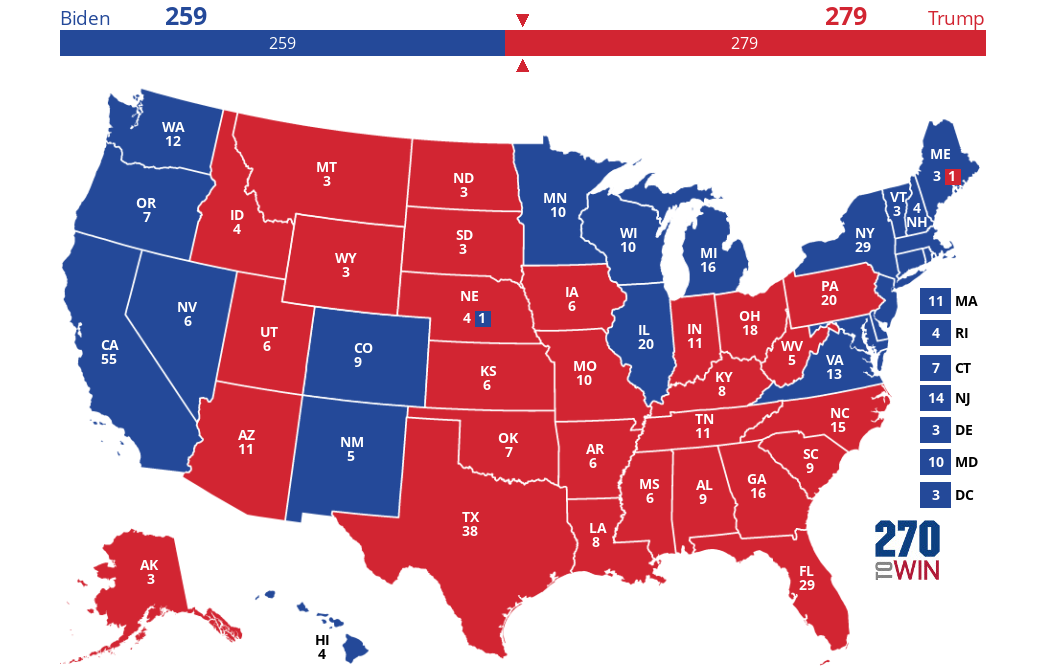 The Economist forecast
As of November 2nd, The Economist's election model gives Biden a 95 percent chance of winning the presidency and a greater than 99 percent chance of winning the most votes nationwide. Biden's chance of winning is unchanged from last week, according to the Economist's model.
This model projects wins for Biden in several crucial swing states, including Wisconsin, Michigan, Arizona, North Carolina and Pennsylvania, with a tossup in Georgia.
*Note – The Economist does not model the individual races in Nebraska's and Maine's congressional districts.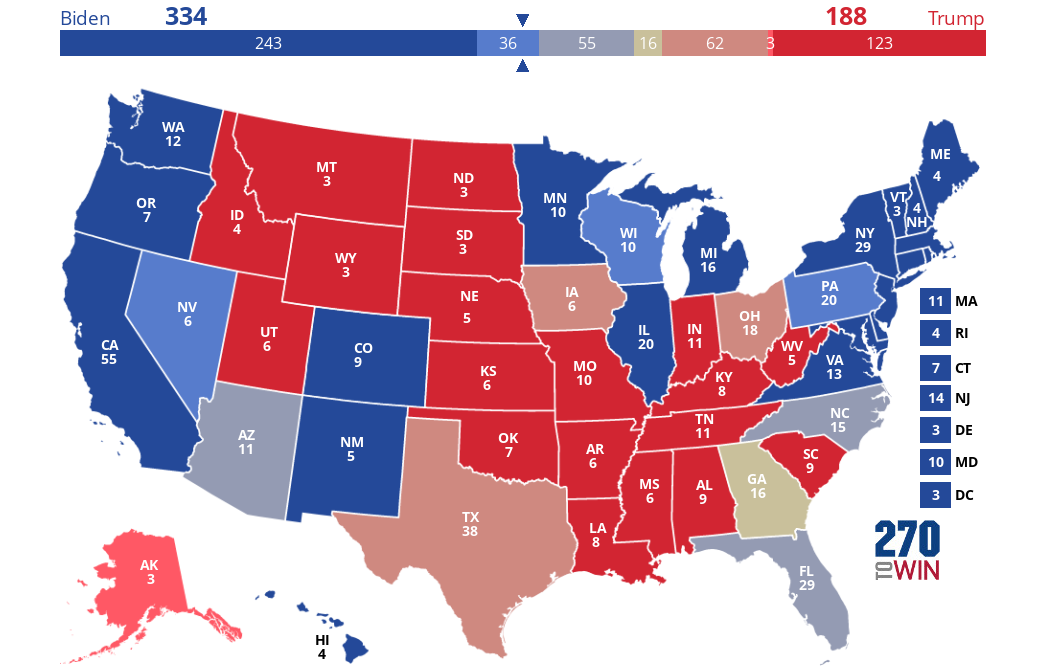 FiveThirtyEight forecast
As of November 2nd, FiveThirtyEight's model predicts that Biden is 'clearly favoured' to win the election, with a 90 percent probability – up three percent on last week. Their model gives Biden 252 electoral votes in states where he leads by more than eight percent, meaning he only would only need Pennsylvania or Florida, or both North Carolina and Arizona together, to win.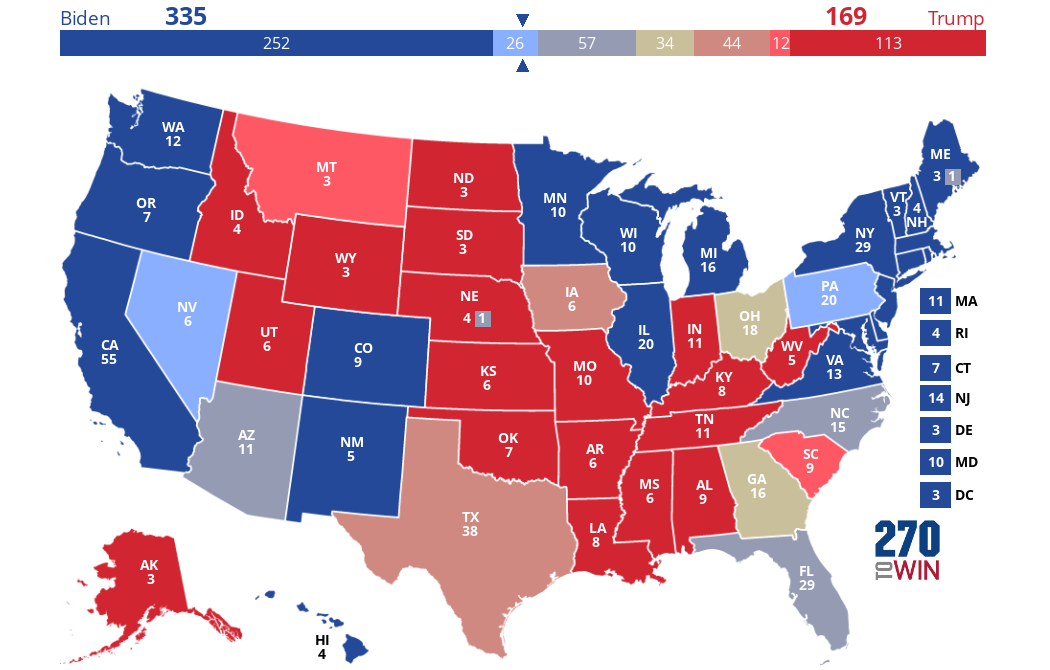 JHK forecast
As of November 2nd, JHK gives Joe Biden a 90 percent chance of victory tomorrow, up one percent on last week, with flips in Florida, Arizona, Wisconsin, Michigan, North Carolina, Georgia and Pennsylvania. However, it suggests a tossup in Ohio and Iowa.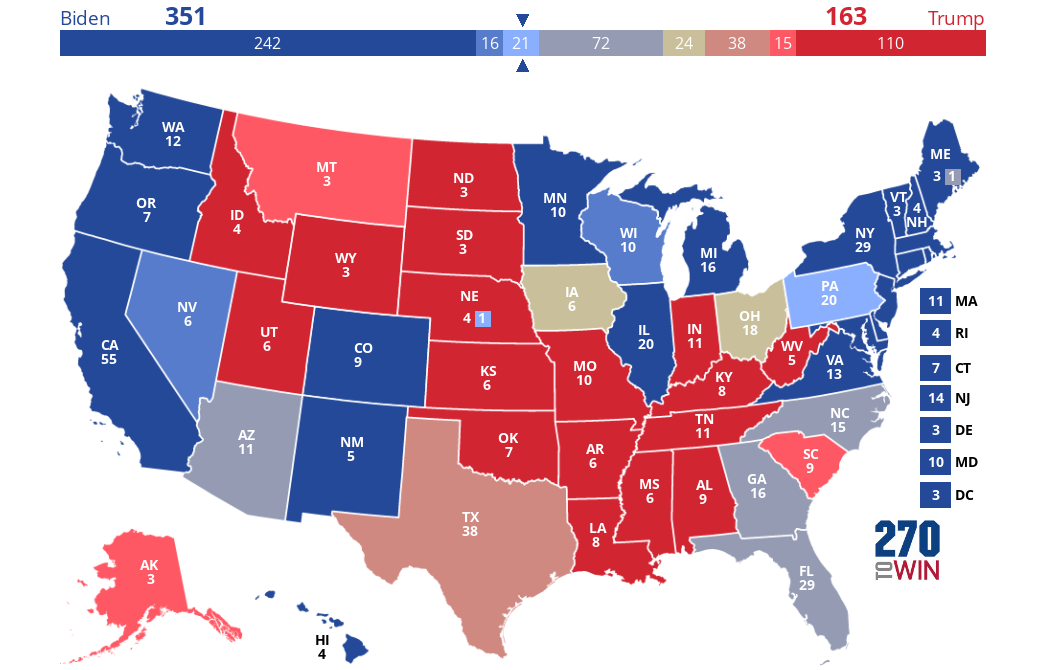 Plural Vote forecast
As of November 2nd, Plural Vote gives the Democrats only a 66 percent chance of winning the presidency, down four on last week. Their model predicts tossups in four of key races; namely Pennsylvania, North Carolina, Georgia and Florida.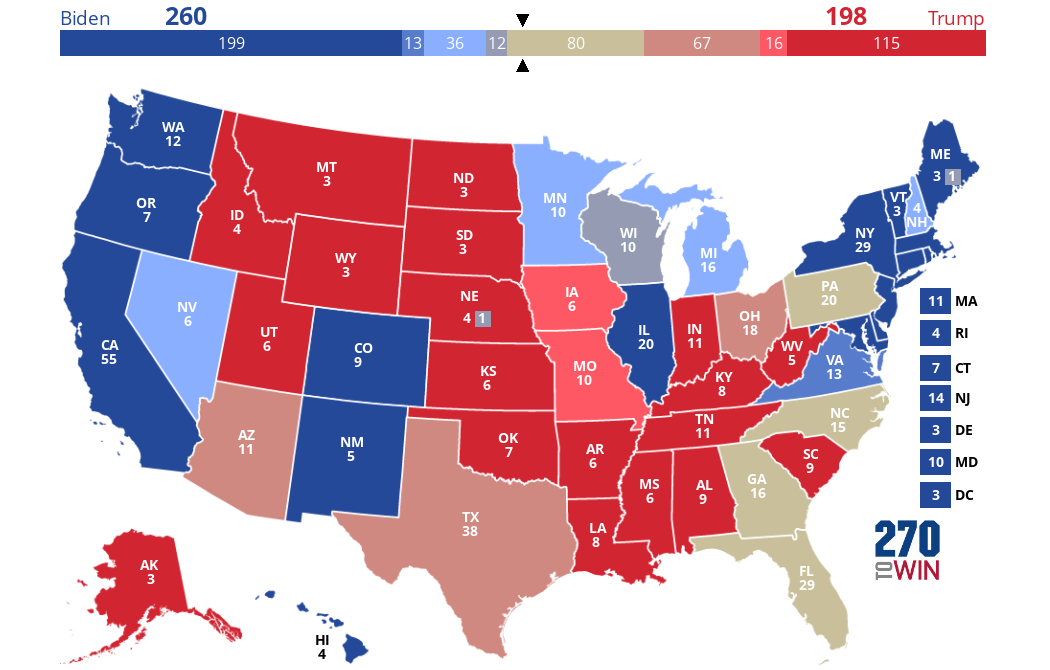 Electoral Polls forecast
As of November 2nd, Electoral Polls gives Biden a 96 percent win probability, up one from last week.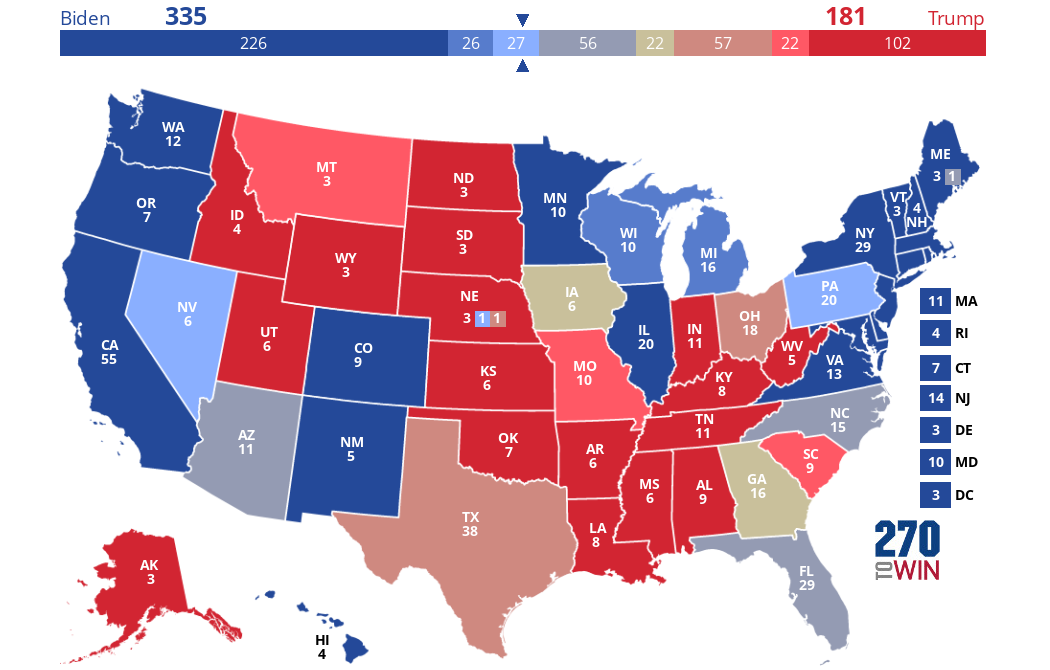 With just one day of the election campaign still to go, it is important to remember that a good proportion of voters will have cast their ballot by mail before election day itself, so all eyes will be on voter turnout on election day itself. This is particularly important as the majority of early voters have backed Biden and those planning to vote on election day are mostly Trump supporters.